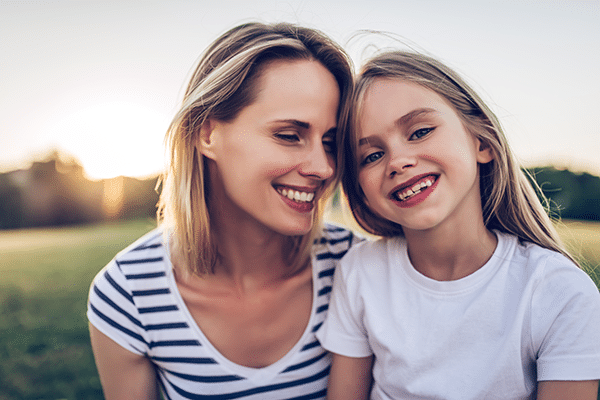 Complete Family Dentistry in Bismarck, North Dakota
Your entire family will have more reasons to smile thanks to the compassionate dental care offered at Bright Dental Studio in Bismarck, North Dakota. Everyone from the youngest child to the oldest grandparent can benefit from our personalized care. As your local family dentist, Dr. Crystal cares about each patient as an individual, and she tries to make each visit as enjoyable as possible. The entire team will educate you on your treatment plan and listen carefully to any concerns you have regarding your dental health. The following explains the benefits of going to a family dentist.
What is Family Dentistry?
A family dentist works with patients of all ages and addresses oral health at every stage of life. Dr. Crystal has the necessary experience and education to treat your dental needs. From the examination at your regular checkup to major restorative services, she and her team at Bright Dental Studio work hard to keep your mouth healthy.
Benefits of Seeing a Family Dentist
When your entire family can go to one dentist, dental care is convenient. There is no need for each family member to have their own dentist at a different location.
Dr. Crystal provides a wide range of treatment such as cosmetic treatment, dental cleanings, teeth whitening and preventative treatment such as extractions and root canals. You form a lasting relationship which can help eliminate any dental anxiety.
Your family dentist knows your dental history, keeps track of your dental insurance benefits, and can help you coordinate family dental appointments. If any of your family has a dental emergency, we are right here, ready to help.
Creating Healthy Smiles is Where We Shine
There's nothing we love more than providing beautiful, lasting results.
Family Dental Services Provided at Bright Dental Studio
At Bright Dental Studio, our dental team provides most of the family dental services you'll ever need, including:
Dental Technology
AxeosTM 2D/3D Digital X-Rays
Dental Injuries
Chipped & Broken Teeth
Tooth Pain
Call for an Immediate Appointment
Why Should You Go to Bright Dental Studio for Family Dental Care?
Finding a great dental office that takes care of your entire family helps you save time and money. At Bright Dental Studio, we believe each member of your family deserves the best dental care possible. We strive to maintain lasting relationships with each patient, so we can better understand your needs and help you feel more comfortable every time you visit our local family dental office.
We stay on top of the leading dental technology, so we can give each patient an effective treatment plan. Whether you need a dental crown, new dentures, or you need root canal therapy, we have the technology and experience to get it done right. You can trust Dr. Crystal and her team to take care of your smile, so you can leave with a healthy and happy mouth!
Is it time for you to see a dentist? We are happy to schedule an appointment for you. Please give us a call or contact us online. No matter what age you are or what condition your teeth are in, Bright Dental Studio in Bismarck, North Dakota, is your top choice for family dental services.